We offer so many different types of events and parties, it'll make your head spin. Interested in using our awesome facility for your next event or party? Contact us today!
We have also prepared Weekly Entertainment that your whole family and friends will surely enjoy!

Monday Night Cruise In Car Show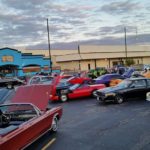 This May, Monday Night Cruise In Car Show will be back. We are very fortunate to have various car clubs hosting here on Monday nights. The Odd Ones, TIC and more. Head on out to the the free cruise night starting 6PM each Monday here. Stay turned. Lots of great events to come this year.
It is ALL about Dancing here at #DSC. Head out here to get those dance moves into actions.
Salsa Dancing Mondays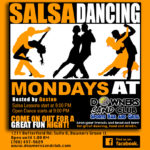 Salsa Mondays are here — Lessons & Dancing. Get ready to move your hips here every 3rd Monday. Lessons start 8pm and Open Dance starts 9pm hosted by Gaston.  Next show is August 21st so spread the word and come have a great time.
East Coast Swing & Lindy Hop Dancing Tuesdays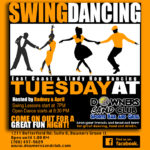 Come and let us swing dance with Rodney and April! Lessons start at 7PM and Open Dancing starts at 8:30pm!
West Coast Swing Dancing Wednesdays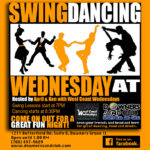 Come get your groove on every Wednesday night with April & Ken with West Coast
Wednesdays.  Lessons begin at 7pm and Open Dance starts at 830pm.
Head on out here and root your #DSC teams on each Wednesday night.  The balls start flying at 7pm. So grab your stick, some friends and come out for some fun with our ALL NEW tables and lights..
Board Games are here every Wednesday night starting 6pm up front by the dart boards. Plenty to do so grab some friends, games and come eat, drink and the play the night away!
Steel Tip Dart League Thursdays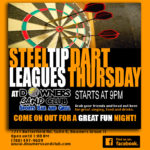 Come out and root your #DSC teams on each Thursday night up front. The darts start throwing at 7pm.  So grab your gear, some friends and head on out for some fun in the indoor sun.
Karaoke Friday Night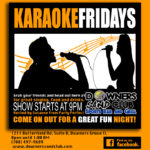 Are you looking for a place where you can just release all the stressed you had for the week? Where you can just simply sing it all out loud? Well this place is for you! Grab your friends and head out here for great singing, food and drinks. Hosted by Susanne from Party Perfect Entertainment. The show starts at 9PM.
DJ Dancing Saturday Night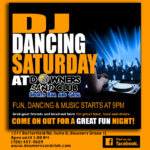 Grab your friends and head out here and dance the night out with some great DJ's. Time to get those bodies moving in motion! The fun begin saturday nights at 9pm.  Hosted by Tracy Ford and his crew.
Country Dancing is back here Saturdays twice a month. Grab some friends and head on out here for a great night with great people. The boots kick off the floor at 7pm with lessons and then 8pm for open dancing hosted by Dance with Janet. Next show is August 12th so let your friends know and head on out.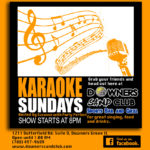 Karaoke Sunday Night
Yep, that's right. We have two nights of Karaoke shows (Friday and Sunday)! Sing your heart out with Susanne of Party Perfect and start your week ahead with fun-filled night! Show starts at 8PM, grab your friends and family here for more great singing, food and drinks!
Pool Tournament Sundays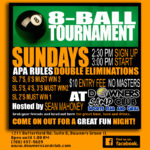 Every Sunday at #DSC we will be hosting either an 8-ball or 9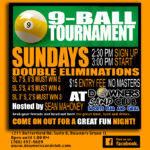 -ball tournament. Please check out the flyers for rules, entry fees and more.  These tourneys will be hosted by Sean Mahoney!  So come on down, bring some friends, watch some sports, eat, drink and have fun.
Bag Tournaments
We also host Bag Tournaments here for those who love bags/cornhole. Come and join us! It is definitely alot of fun.
Check our facebook for scheduled tournaments. Next one is July 28th with registration 730pm and 8pm to start.
Event Posters