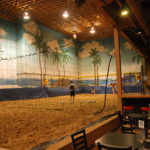 Downers Sand Club Sports Bar & Grill is THE place to be for suburban sand volleyball. From leagues to corporate events to open court play, we have exactly what you are looking for. Have a birthday and want to have a volleyball-infused party? We got you. Does your company want a private outing full of food, drinks, volleyball, and fun? We got you. I think you get the point. If you like having fun, we got you!!
SUMMER Leagues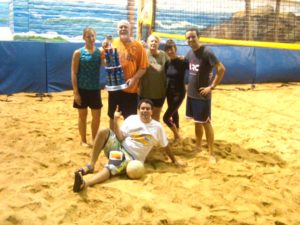 Summer Leagues 2016 is now over.  Congrats to all the teams that played here this summer.  DSC would like to congratulate TEAM S*M*A*S*H for winning the 1st DSC Bud Light Trophy.

Court Rentals
Court rentals are available 7 days a week outside of Leagues, Classes & Tournaments. We are currently in Fall/Winter rates.  The cost of the courts are $50 per hour per court.  So Book now!  To reserve your court, please contact Progression Volleyball at bryan@progressionvolleyball.com or 630-673-2185.
Indoor Sand Volleyball Leagues
Spring Volleyball Leagues begin Sunday March 12, 2017. Head over to the following website to signup. http://www.progressionvolleyball.com/downers-sand-club/
Open Registration begins 2/27/17.
If you have any questions, please contact Bryan McDermand at bryan@progressionvolleyball.com or 630-673-2185
---