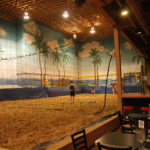 Downers Sand Club Sports Bar & Grill is THE place to be for suburban sand volleyball. From leagues to corporate events to open court play, we have exactly what you are looking for. Have a birthday and want to have a volleyball-infused party? We got you. Does your company want a private outing full of food, drinks, volleyball, and fun? We got you. I think you get the point. If you like having fun, we got you!!
---
Indoor Sand Volleyball Leagues
Downers Sand Club is handling the Indoor Sand Volleyball leagues Sunday thru Thursday Nights.

The Holiday Charity Season Registration is CLOSED.
Due to the limited spots and high interest our Holiday Charity League filled up in 1 day.
Thanks to all of those that re-signed up.  We are hoping to raise alot
of money for the various charities.  If you would like to donate to
any of our charities, please feel free to venmo or zelle over your donation
along with what charity the money goes toward.  See below on charity days
and donation options.
Sundays – Toys for Tots
Mondays – Magnificent Mutts
Tuesdays – Aubree's Hope
Wednesdays – Breast Cancer
Thursdays – Enchanted Backpack
Any questions on any of the charities, please let us know.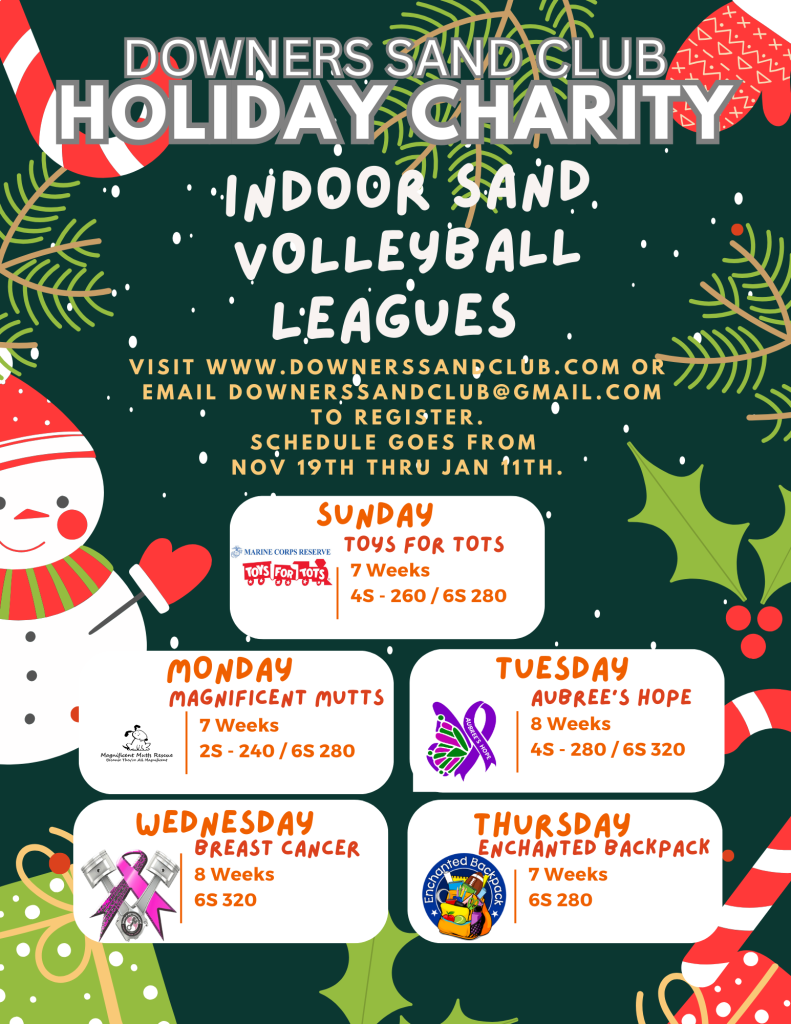 We also host tournaments here at Downers Sand Club. These are located on our facebook page or the events page on our website. https://downerssandclub.com/events/
Let us know if you have any questions via phone by 708-497-9689 or our email.
Be safe and have a Sandy Day.
Please click here to see the latest Rules and Regulations of DSC Indoor sand volleyball leagues
If you have any questions, please email us at
[email protected]
or call us at 708-497-9689.

---